I was talking to a college student a while back who said he was interested in becoming a tour manager. It turns out that one of his best friends is an aspiring young artist with a bright future, one who will likely need a tour manager someday. "What does a tour manager do?" he asked. The specific duties can vary depending on the tour, but in general, the tour manager oversees all aspects of the touring entourage and coordinates each concert with the event buyer, production company, and all other pertinent parties. My job as tour manager for Rhett Akins requires me to wear a lot of hats; tour manager, band leader, lead guitarist – officially; and guitar tech, stage manager, assistant merch person, travel agent, part-time bartender, and occasional guidance counselor – unofficially. There are eight members of our entourage – Rhett, myself, three other band members, a sound engineer, a merch person, and a bus driver, and it is my job to make sure they are well taken care of when we are touring. To give some perspective, I thought it might be fun to take you on a recent one off with Rhett and gang. This post will be a bit long, but then again so is the day of a tour manager.
Rhett Akins
09-04-10 – Clay County Days Festival – Manchester Kentucky
It was about 11:30 PM on Friday, September 3rd when Kelly and I arrive to the bus near Opryland in Nashville, TN. Most of the other guys are already there and our sound engineer, Mike Jaeger, and bassist, Clint Jacobs, help me load my gear , Rhett's merch, and some bus stock into the bays underneath the bus. Assistant tour manager and merch specialist, Kelly Normand, begins stocking the refrigerator with bottled waters and putting away some of the other supplies (paper plates, solo cups, etc.). On this run we have a substitute driver, and after making his acquaintance, I give him some paperwork and discuss some specifics of the trip. A little while later we pull out, bound for London, KY, the location of the hotel we would be using for our show at Rawlings Stinson Park in Manchester Kentucky. My official duties complete for this workday, I enjoy some chill time in the front lounge with the guys for a bit before heading to bed (or heading to bunk, rather).
Like most of our weekend runs, our bus arrives to a hotel parking lot sometime early morning and I awake a few hours later to begin my day. My first duty is getting checked into our hotel rooms, and this can require a special skill set (called charm) to get into these rooms at the early hour of 9 AM (most hotel check-in's are between 1 and 3 PM). After offering a warm greeting to the hotel front desk clerk, I introduce myself – "My name is Eric Normand, I'm the tour manager for Rhett Akins and we've got four rooms booked with you. I realize it's still kind of early, but I was wondering if any of them are ready." "We should have a couple of rooms cleaned and ready in about 20 minutes and the other two in about an hour" she notifies me. "Great, thanks." I return to the bus and eat some breakfast before returning to the hotel lobby for the room keys.
By noon, most everyone is up and hanging out in the front lounge. Were watching "Stand by Me" on the flatscreen TV as we head off for the venue, a 20 mile, 30 minute drive. While enroute I call my contact at the event to notify him we are almost there. We arrive on site and back the bus into a fire station parking lot across the street from the park. This is the closest the bus will be able to get to the stage which is located about an eighth of a mile away, and I quickly realize I'm going to get in a fair amount of walking on this sunny 70° day. I walk off the bus and meet, Gene, my go-to guy from this event for the day. "Tell me what you guys need, and I make it happen." he informs me. "Everybody's pretty hungry, so the bus stock would be great. After that we'll need a pickup truck and some stagehands to cart the gear over the stage, and a runner to take our driver back to the hotel." A few minutes later our bus stock is arriving, and I began to coordinate the load in.
After everybody eats, I find the runner who then takes our driver back to the hotel to sleep, and we begin our set up and sound check. As I still have a lot of details to tend to, I try to set up my gear as quickly as possible. Before I can finish, the event buyer requests a brief meeting with Rhett, as well as the handling of settlement (payment). Gene takes me via golf cart back to the bus so we can bring Rhett to meet the owner who is down the street cooking our BBQ dinner on a giant smoker. A little while later I'm back to the stage with sound check in full swing. Mike has done a good job of 'ringing out the monitors' and we are pretty much ready for Rhett. After running through two songs and making a few minor adjustments everybody's pretty happy with the sound, so we 'spike and strike' our monitors and pedal boards to make room for the opening act.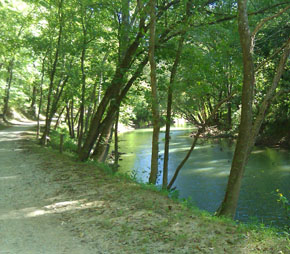 Typically, the conclusion of sound check would mean that we're all returning to hotel rooms for showers, but as this day had a late afternoon sound check with an early show time, there wasn't enough time. I told everyone this in advance, and most of them had already taken a quick shower late morning at the hotel. So today, it's a couple hours of downtime on-site. Some of the guys go walking around the festival for a bit, others hang out on the bus watching college football, while Kelly and I explore a walking trail off the back side of the park. Dinner was served in the firehouse at five o'clock – a massive spread of pulled pork, ribs, potato salad, and some outstanding homemade creamed corn. In fact, the creamed corn tastes so much like corn, that I realize how little so many other 'corn products' actually taste like corn.
After dinner it's time to set up our merch station, so I accompany Kelly to her tent to make sure she has everything she needs. Upon our arrival to her side stage location, I see that the event has provided a 10×10 pop-up tent, table, and a half a dozen folding chairs. While Kelly begins setting up her merch, I find one of the production company workers and ask him to run some power over to the tent for lighting. Once the lighting is set I begin preparing for Rhett's meet and greet by texting him to notify him that it's 10 minutes out. I verify with Gene that the meet and greet party has gathered, and deliver Rhett, sharpie in hand, to the green room. During the middle of this autograph-signing photo-op I get a text from Kelly stating that she needs more change and that one of her lights has a burned-out bulb. I locate a spare bulb and $100 worth of 5's, make another walk to the stage area, and return to help wrap up the meet and greet.
I escort Rhett back to the bus, put a fresh battery in his in-ear wireless belt pack, and return to the stage to reset my gear. The opening band now finished and the stage clear, I place my pedal board, tune my guitar, and check my rig with a few quick power chords. I continue on to Rhett's position, tuning his acoustic and checking it for signal, checking his vocal mic in the monitors and in the house, installing a pic clip with guitar pics to his mic stand, and placing set lists and a beverage on the stage floor by his monitor. The other band members are all at their stations checking their rigs, and a DJ is selling himself over the mic in that nonstop annoying ramble that only a DJ can do. The park is filled to capacity, somewhere around 4000, and we're ready to go. I make one more walk back to the bus to shuttle Rhett over via golf cart. A few minutes later and were off and sailing on our 90 minute 'countrified' rockathon.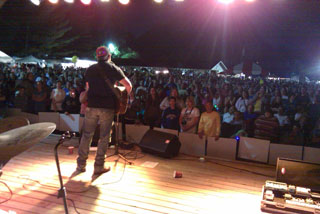 In a day so full of endless details, the nightly concert is by far the high point for me. For these 90 minutes I get to play my guitar with a great band, behind a great front man, and it's all about the music for me. Rhett, being the quintessential performer, possesses the uncanny ability to render a crowd in the palm of his hands in about as much time as it takes him to walk out onto the stage. The concertgoers on this particular night are no exception to this rule, and Rhett quickly wins them over. For this brief period, it doesn't even seem like I'm working, after all, this is what I set out to do in the first place. Aside from our usual repertoire, one standout is an impromptu performance of Bon Jovi's 'Wanted Dead or Alive' (playing in all those early cover bands sure comes in handy every once in a while) and Rhett's son, Thomas Rhett, joining us to sing a great rendition of 'Duck Blind'. 90 minutes later our performance is complete, and the captive audience slowly makes their retreat as Rhett rides back to the bus via golf cart while the band tears down the gear. I quickly transition from musician mindset back to road manager and instruct Gene to pull up a truck next to the stage for load out. We load the gear, ride over to the bus, and load it into the bays. I send the runner to pickup our driver, they return about an hour later, and we fire up the bus to ride off into the night. My workday done, I enjoy a frosty beverage in the front lounge with the gang. I awake on the bus the next morning back in Nashville, load my car, and get the fuel receipts and some other paperwork from the bus driver. "Great job everybody, see you next week!"
This one-off is typical for a small to midsized tour, such as ours. On tours of this size and nature, the tour manager advances these details over the days and weeks preceding the show (quite often it is these advance phone calls and e-mails that make or break how well each show day and show goes). In the days after a weekend run, the tour manager addresses payroll, bank deposits, bus lease payment, and some light accounting duties while advancing upcoming shows. On a larger more active tour, there would simply be more tour members, more tour buses, and more equipment, and they would likely be staying out for longer periods of time. A day similar to the one I just described would be repeated in succession, kind of like Groundhog Day, each day beginning the same as the last – the view of an obscure parking lot from the bus window, somewhere far from home. On one of these tours, the 'TM' would still be the grand overseer, but would be delegating many of these roles to others – stage managers, guitar techs, etc. He still has to deal with all the same kinds of details, he just doesn't have to wear as many hats. Don't get me wrong, I'm not complaining about wearing so many hats, he probably doesn't get to play guitar during the show.
My name is Eric Normand and welcome to 'Country Concerts'!