Saturday night's show at the U.S. Bank Balloons, Tunes and BBQ Festival in Bowling Green Kentucky turned out to be a huge success, but earlier in the day things were looking pretty bleak. All week long the weather forecast showed a strong possibility of severe weather for this area, as the remnants of Tropical Storm Hermine were projected to move through. When we arrived on site at the Warren County Regional Airport a strong steady wind was already blowing, despite an otherwise beautiful sunny day.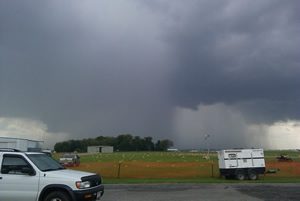 Right around the time we were about to start micing up our instruments for soundcheck, the sky grew ominously dark, and a few minutes later a strong gust of wind knocked over a large column of PA speakers. Fortunately, nobody got hurt, but it was a frightful moment. As a downpour was imminent, we quickly scrambled to put tarps over our stage gear. Minutes later we watched from the bus window as a strong steady rain pummeled the airport grounds. Just when we thought our day was completely doomed the rain subsided, and a short while later the sun returned to dry out the rain soaked grounds.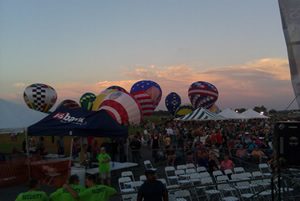 As it turns out, we got real lucky and it never did rain again. The first two days of the festival had been a complete washout due to the weather, but by late afternoon the winds had died down, and some hot air balloons began to permeate the sky for the first time on this weekend. By the time the first group, Easy Street, went on stage at 5:30 there was already a couple of thousand people in front of the large mobile stage, and their set was well received. A little while later, after the second band, Floord, was finished with their set, Nick Hoffman (Kenny Chesney's fiddle player) took the stage with his band. During Nick' set I organized and led a large meet and greet backstage with some radio station contest winners who were more than excited to meet Rhett.
At about 8:45 it was finally our turn for some stage time, the crowd had now swelled to around 10,000, and was at the peak of this annual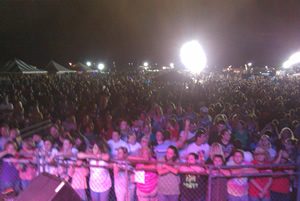 event's outing. We dug in hard for a rockin' 90 minute show, the crowd into it from the onset. About halfway through our show, Rhett brought up his son, Thomas Rhett to sing the soon-to-be classic 'Duck Blind'. After this well received rendition, a woman somewhere near the front row yelled out "He's real sexy too!" This helped prompt Rhett to prod young Thomas into doing one more song, 'Tobacco', one of Thomas's original compositions which he performed solo acoustic. Apparently, Thomas takes after his dad, who bragged about his son's first cut as a songwriter on Jason Aldeans' latest album, and the fact that "Some day soon you're going to be hearing Thomas Rhett on the radio too!" After Thomas left the stage to a roaring applause, we continued on with our set, and a little while later Rhett invited up Nick Hoffman to sit in for a couple of tunes on the fiddle. Rhett ended the show by playing a solo acoustic version of "Gimme That Girl" the blockbuster hit he wrote for Joe Nichols. This soft and soulful piece helped to wind down the electricity in the crowd, and upon its conclusion they began to slowly exit the concert grounds.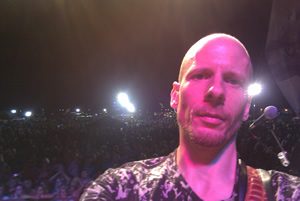 It was a long day, but a good day, and we were all thrilled that the weather wound up being on our side. While this isn't always the case with these kinds of outdoor shows, past experience has taught me to always hope for the best, while preparing for the worst. We've got two more outdoor shows on the books in the upcoming weeks. Hopefully, we'll get lucky on those too!